Dental sealants are clear coatings applied to the surfaces of a child's molars to prevent the development of tooth decay. They work by preventing food and plaque from resting in the grooves and crevices of molars – an area especially susceptible to cavities. According to the National Institute of Dental and Craniofacial Research, nearly 1 in 3 U.S. children ages 6 to 12 currently have sealants on their teeth.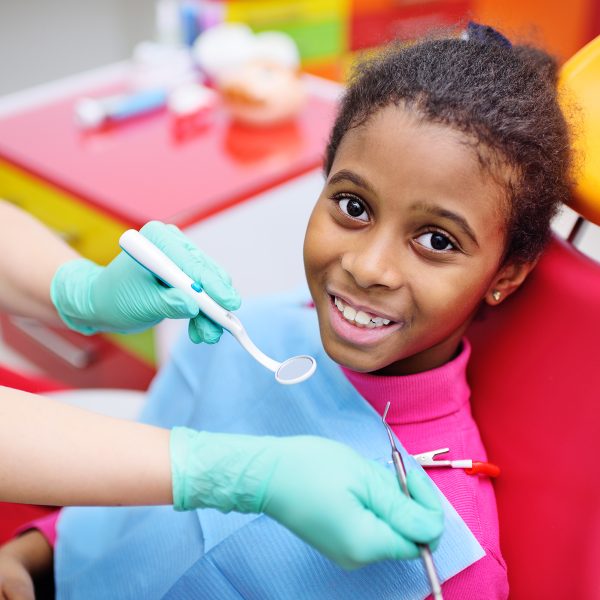 that sealants can last as long as 5 to 10 years pediatric dental patients? Depending on a child's oral development and risk factors for tooth decay, sealants may be applied to the teeth as young as age 6. It is at this time that the first molars typically appear. Additional molars erupt at approximately age 12. If possible, sealants should be applied to a child's teeth immediately after any molar has appeared to reduce the risk of early decay. 
Frequently Asked Questions
Will dental sealants affect the feel or appearance of my child's teeth?
Sealants bond directly to the teeth, where they harden to a clear or tooth-colored coat. This makes them virtually undetectable to others. Though it is normal to feel new sealants with the tongue, most children quickly adapt to their presence. 
What will my child experience when getting sealants?
The process of getting sealants is fast and painless. The tooth is cleaned before the dentist paints the sealant onto the enamel. The sealant will immediately harden, acting as a barrier between bacteria and the chewing surface of the teeth. In most cases, sealants will last several years before needing to be reapplied. However, regular visits to the dentist will be necessary to monitor the condition of the sealants and examine their effectiveness. 
Will sealants prevent all cavities?
While sealants are extremely effective for preventing tooth decay in children, they do not replace other forms of preventative oral health care. Children should still brush and floss each day using a fluoridated toothpaste. Regular dental exams and a balanced diet low in sugar are also essential for good long-term oral health. 
As a pediatric dental office, we are dedicated to helping children form a positive attitude towards dental care and regular dental examinations. We are a preventative oriented office specializing in the dental needs of infants, children, teens and patients of special needs. We approach dentistry in a fun and gentle manner creating a relaxed atmosphere that makes each visit as relaxed and fun as possible. 
Kids and Parents Love Us!
First dentist and pediatric dentist that my daughter, who is very anxious, did great with. Although she was still anxious, the staff was great at keeping her comforted while getting the necessary procedures done. I also find it great that they are able to offer sedation procedures for those with great anxiety. It was a great first experience to go there and I think my daughter is going to start not really Minding the dentist with some time if we continue to go there. Which we do!
My daughter will be turning 3 soon and we had her first dentist appointment here after hearing several recommendations for it. It was an amazing experience. Little wait time, staff that knew just the right things to ease her nerves, and you can tell they care! I would highly recommend going here, we will definitely remain patients here!
Today was our son's first dentist appointment so we really didn't know what to expect. The office staff was extremely friendly and helpful. The dental assistants were so friendly and informative with any questions we had. Dr. Vij was super nice and also answered any questions or concerns we had. They all made the experience for our little guy a pleasant one.
Pediatric Dental Services
The Ultimate Patient Experience
At Dentistry 4 Kids, we always give our patients a warm welcome to our Fairlawn, OH office! We're happy to serve all the dental needs of you and your family in our state-of-the-art dental practice.
Your family will have a lifetime of healthy, joyful smiles thanks to our compassionate pediatric doctors and office members!
**Please call the office to confirm our hours as it can occasionally change based on Dr. Vij's surgery schedule at Akron Children's Hospital.