A lifetime of good oral health begins during the first stages of life even before the first teeth emerge. Parents who are well-educated in children's dental health can more adequately ensure that a child's oral care needs are met. From an early age, pediatric dentists serve as partners in oral health and prevention, answering questions and providing helpful information about teething and at-home oral care.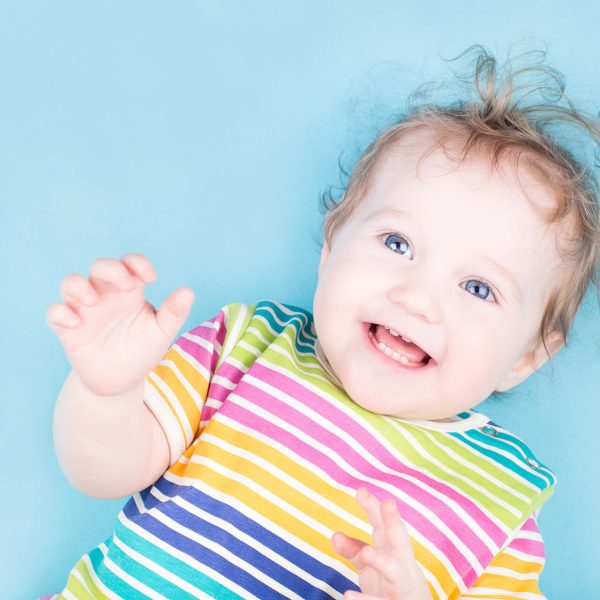 that 2 in 5 children have at least one cavity by the time they go to kindergarten? In fact, early childhood caries can appear shortly after the first tooth appears. Once a baby has developed tooth decay, he or she is more likely to develop additional cavities over time.  
Frequently Asked Questions
How should I take care of my baby's teeth and gums at home?
Infants do not have teeth to brush or floss. However, they do have gums that should be cleansed gently with a damp cloth each day. Once the first tooth emerges, an age appropriately- sized toothbrush can be used to carefully brush and prevent the build-up of plaque. 
Should I bring my infant to the dentist?
Yes. Early visits to the dentist are highly informational and supportive. Children should visit the dentist for the first time within six months of getting a first tooth and no later than age one. Choose a pediatric dentist in [city] who specializes in treating children and adolescents. Keep in mind that the initial dental visits for babies and toddlers are primarily educational, but have significant long-term impact on your child's oral health. 
Is there anything I can do to prevent early childhood tooth decay?
In addition to cleaning your infant's teeth and gums, you can help prevent tooth decay by ensuring your child is getting plenty of fluoride – whether in your local water source, via fluoridated toothpaste or by way of professional fluoride treatments. In addition, do not allow your child to go to bed with a bottle, as doing so can lead to a condition known as 'baby bottle decay'. 
As a pediatric dental office, we are dedicated to helping children form a positive attitude towards dental care and regular dental examinations. We are a preventative oriented office specializing in the dental needs of infants, children, teens and patients of special needs. We approach dentistry in a fun and gentle manner creating a relaxed atmosphere that makes each visit as relaxed and fun as possible. 
Kids and Parents Love Us!
First dentist and pediatric dentist that my daughter, who is very anxious, did great with. Although she was still anxious, the staff was great at keeping her comforted while getting the necessary procedures done. I also find it great that they are able to offer sedation procedures for those with great anxiety. It was a great first experience to go there and I think my daughter is going to start not really Minding the dentist with some time if we continue to go there. Which we do!
My daughter will be turning 3 soon and we had her first dentist appointment here after hearing several recommendations for it. It was an amazing experience. Little wait time, staff that knew just the right things to ease her nerves, and you can tell they care! I would highly recommend going here, we will definitely remain patients here!
Today was our son's first dentist appointment so we really didn't know what to expect. The office staff was extremely friendly and helpful. The dental assistants were so friendly and informative with any questions we had. Dr. Vij was super nice and also answered any questions or concerns we had. They all made the experience for our little guy a pleasant one.
Pediatric Dental Services
The Ultimate Patient Experience
At Dentistry 4 Kids, we always give our patients a warm welcome to our Fairlawn, OH office! We're happy to serve all the dental needs of you and your family in our state-of-the-art dental practice.
Your family will have a lifetime of healthy, joyful smiles thanks to our compassionate pediatric doctors and office members!
**Please call the office to confirm our hours as it can occasionally change based on Dr. Vij's surgery schedule at Akron Children's Hospital.