Types of Sedation for Children
Sedation helps ensure that pediatric dental visits provide young patients with a comfortable experience and effective results. Often, children are intimidated by dental visits or otherwise unable to sit still during exams and treatments for extended periods of time. Sedation helps minimize anxiety and relax children during dental visits – all under the safe supervision of a pediatric dentist.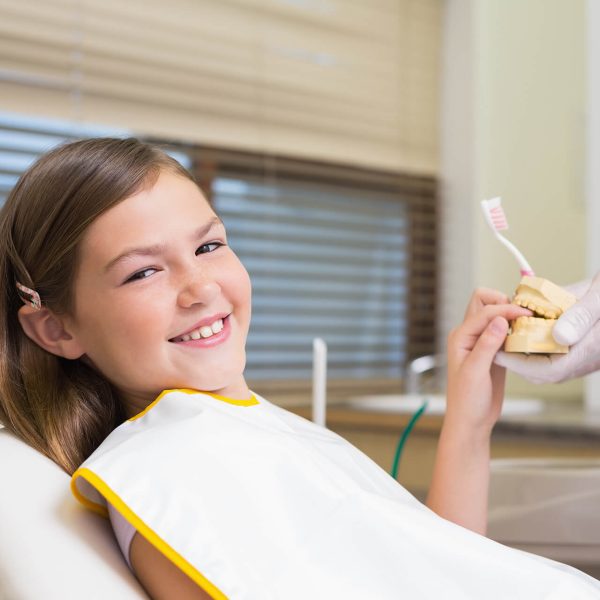 that children of nearly any age can be sedated? Even infants and toddlers can be sedated for dental treatment. There are many ways of administering sedation to pediatric patients, some of which include inhalation, swallowing medicine or even receiving sedation medication intravenously or via injection. 
Frequently Asked Questions
What types of sedation are available for my child?
There several different types of pediatric sedation available to patients, ranging from mild to strong. Children are most often given nitrous oxide, or laughing gas. This gas is inhaled through a mask during the dental visit, providing an instant calming effect. Laughing gas is safe, and its effects wear off nearly immediately after treatment. Other types of sedation may be necessary for children with greater anxiety levels or special needs. Examples include oral sedation given prior to the dental visit, as well as IV sedation, which usually leaves children with little or no memory of their dental treatment. 
Should I consider pediatric sedation for my child's next dental visit?
Your child may be a candidate for pediatric sedation dentistry if he or she has special needs, is very young, has difficulty sitting still, or has anxiety about visiting the dentist. Your child's dentist may also recommend sedation if your child will be undergoing a lengthy or extensive dental treatment. For more information about pediatric sedation and whether it is right for your child, contact our office. 
How will my child need to prepare for a dental visit involving sedation?
You will be given instructions for preparation prior to your appointment. Your child may not be allowed to eat or drink in the hours leading up to the procedure. If your child experiences anxiety prior to the visit, consider letting him or her bring a 'comfort' item, such as a blanket or stuffed animal. 
As a pediatric dental office, we are dedicated to helping children form a positive attitude towards dental care and regular dental examinations. We are a preventative oriented office specializing in the dental needs of infants, children, teens and patients of special needs. We approach dentistry in a fun and gentle manner creating a relaxed atmosphere that makes each visit as relaxed and fun as possible. 
Kids and Parents Love Us!
First dentist and pediatric dentist that my daughter, who is very anxious, did great with. Although she was still anxious, the staff was great at keeping her comforted while getting the necessary procedures done. I also find it great that they are able to offer sedation procedures for those with great anxiety. It was a great first experience to go there and I think my daughter is going to start not really Minding the dentist with some time if we continue to go there. Which we do!
My daughter will be turning 3 soon and we had her first dentist appointment here after hearing several recommendations for it. It was an amazing experience. Little wait time, staff that knew just the right things to ease her nerves, and you can tell they care! I would highly recommend going here, we will definitely remain patients here!
Today was our son's first dentist appointment so we really didn't know what to expect. The office staff was extremely friendly and helpful. The dental assistants were so friendly and informative with any questions we had. Dr. Vij was super nice and also answered any questions or concerns we had. They all made the experience for our little guy a pleasant one.
Pediatric Dental Services
The Ultimate Patient Experience
At Dentistry 4 Kids, we always give our patients a warm welcome to our Fairlawn, OH office! We're happy to serve all the dental needs of you and your family in our state-of-the-art dental practice.
Your family will have a lifetime of healthy, joyful smiles thanks to our compassionate pediatric doctors and office members!
**Please call the office to confirm our hours as it can occasionally change based on Dr. Vij's surgery schedule at Akron Children's Hospital.